Waiting on Wednesday (nom original) est un rendez-vous hebdomadaire qui a été crée en premier
sur le site
Breaking the Spine.
A little something different de Sandy Hall
Sortie : 26 Août 2014.
The creative writing teacher, the delivery guy, the local Starbucks baristas, his best friend, her roommate, and the squirrel in the park all have one thing in common—they believe that Gabe and Lea should get together. Lea and Gabe are in the same creative writing class. They get the same pop culture references, order the same Chinese food, and hang out in the same places. Unfortunately, Lea is reserved, Gabe has issues, and despite their initial mutual crush, it looks like they are never going to work things out. But somehow even when nothing is going on, something is happening between them, and everyone can see it. Their creative writing teacher pushes them together. The baristas at Starbucks watch their relationship like a TV show. Their bus driver tells his wife about them. The waitress at the diner automatically seats them together. Even the squirrel who lives on the college green believes in their relationship.
Surely Gabe and Lea will figure out that they are meant to be together....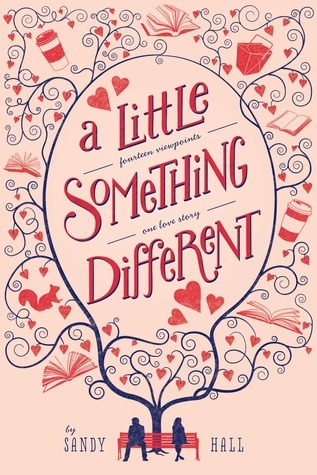 Bon bref, pour parler du livre, ça fait quelques semaines que je vois cette couverture qui me fait de l'oeil parce qu'il faut bien le dire elle est super belle cette couverture !! Et puis l'histoire s'annonce être très belle donc j'ai très hate de le lire !!
The Badger Knight de Kathryn Erskine
Adrian is small for his age, even for an almost thirteen year old. It doesn't help that he has albinism, which makes those he meets wonder if he's an angel or a devil. His father is a bowyer, and all Adrian wants to do is become apprenticed and go off to war as an archer. But that's not what his father wants for him. Since Adrian can write, his father wants him to be a scribe. That's just about the last thing Adrian wants. When the Scots invade England and Adrian's best friend Hugh runs off to find his father and fight in battles, Adrian soon follows, intent on finding Hugh and joining him in glorious warfare against the pagans invading England from the north. When Adrian finds Hugh, who is caring for a wounded Scotsman, he's horrified that Hugh would aid an enemy. But soon, as Adrian gets to know Donald, he begins to question what he's been taught about the enemy and the nature of war. In this epic journey an afflicted boy finds an inner strength he never knew belonged to him.
Lorsque je me promenais sur Goodreads (une de mes activités quotidiennes lorsque je suis ne vacances - vous imaginez très bien ce que j'ai fait de mes vacances...) j'ai vu cette couverture et elle m'as tout de suite fait penser aux fées d'automne de la saga Wings d'Aprilynn Pike alors j'ai lu le synopsis et ce livre semble génial alors j'ai vraiment hâte de pouvoir le lire maintenant !!